By using free photoshop gradients in your graphic projects, you can always make your final product web 2. look. as every one is looking to have web 2.0 graphic looks on his website, i created these gradients for my client who wanted gradients to be follow most popular website's on the net like flicker, Digg, Gmail, Mozilla, Qoop, Rollyo, Techcrunch, Last.fm etc ..
Now wanted to share these Excellent looking Web 2.0 Gradients with you to use them in your projects freely.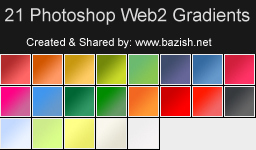 To use the gradient file in your photoshop, you need to follow menu in photoshop as:
Clicking on Edit > Preset Manager
Then from Preset Manager window drop down box choose Gradient
Then click on Load button on right side of the window
In next dialogue box choose the location of your downloaded free photoshop gradient
Select it
Load it
and Enjoy it.